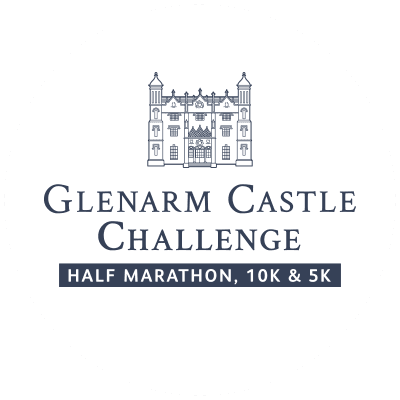 EVENT
GLENARM CASTLE CHALLENGE
8 April 2023
Venue: 
Glenarm Castle, 2 Castle Lane, Glenarm, Ballymena BT44 0BQ
Half Maraton:
11.00am,
WALK

:
11.30am, 
10K/5K:
12 noon
ON THE DAY ENTRY AVAILABLE
HALF MARATHON – £35 • 10K/5K – £30
Online entries are now closed
Thank you for registering.
BORN2RUN Events are delighted to announce this year's Glenarm Castle Challenge  will offer runners a range of distances with a Half Marathon, a 10K and a 5K to choose from. For those who prefer to take things at a more leisurely pace, there will also be a 10K walk.
BORN2RUN's motto is Great Races in Great Places and Glenarm Castle certainly meets the criteria. Complete with a castle dating back to 1636, the working estate offers runners a scenic mix of forest trails, farmland and views along the Glenarm river.  (The race routes will be measured as accurately as possible given the off road nature of the courses however not certified distances.)
EARLY BIRD RATE
£16/£23/£28
If you register before 11pm on 1st March 2023
Online Registration (before 11pm on Wednesday 29th March 2023).  ALL RACE PACKS WILL BE POSTED. PLEASE NOTE AT TIME OF REGISTRATION YOU WILL NEED TO CHOOSE EITHER NI (£3) OR Rep of Ireland (£4) POSTAL OPTION.
5K Race (minimum age 11):
£23 Early Bird offer until 11pm on 01/03/2023 and £25 thereafter.
£16 Junior Early Bird offer until 11pm on 01/03/2023 and £18 thereafter (junior rate applies to runners aged 11-17 years)
10K Race/Walk (minimum age 15):
£23 Early Bird offer until 11pm on 01/03/2023 and £25 thereafter.
£16 Junior Early Bird offer until 11pm on 01/03/2023 and £18 thereafter (junior rate applies to runners aged 15-17 years)
Half Marathon (minimum age 17)
£28 Early Bird offer until 11pm on 01/03/2023 and £30 thereafter.
PLEASE NOTE THERE IS A PROCESSING FEE ADDED BY REGISTRATION PLATFORM AT THE POINT OF ONLINE ENTRY
What are the start times for each race?
Half Marathon: 11.00 AM
10K Walk: 11.30 AM
10K Race: 12 noon
5K Race: approx. 12.10 PM

Can I register for the event on the day?
Yes you will be able to enter on race day. There is an additional £5 charged to cover admin costs. It is advisable to have cash as sometimes our card reader doesn't work. Registration will be located outside in a gazebo in The Courtyard and will be clearly signposted on race day.
We will have Race Safety Instructions available in print at Registration for anyone that wishes to read them.  They will also be announced at the start line before the race commences.
What time is the event registration?
Not applicable at this event as all race entries will be posted prior to the event.
When will I receive my registration confirmation?
Confirmation of your race entry will be sent to you automatically via email from Enthuse Events after your payment is made. All race packs will be posted out to participants on Friday 31st March 2023 and should reach you no later than April 6th. Any Merchandise ordered at time of entry will be available for collection on Race Day at the Merchandise Desk on race day. A Final Race Day Information email, which will include up to date social distances measures to ensure the safe running of the event, will be sent to all registered participants on Thursday 6th April 2023, please check your junk mail in case it lands there.
If I can't run can I get a refund or defer my race entry?
By entering the race you will be bound by the event disclaimer which you agreed to at time of registration. Refunds are not available once entry has been completed. You are however permitted to transfer your entry to a family member/friend by contacting us at info@born2runevents.com (Transfer of entry to another event is not available). Full Terms & Conditions are available to view at time of entry on the Enthuse Events Registration website.
What are the parking facitities at this event?
Please car share where possible as parking is restricted on the estate and follow the marshals' instructions.  Once the Estate car park is full runners can use the public car parks in Glenarm village.
What time is the prizegiving?
Prize giving will be at 1.00pm and prizes will be awarded for 1st, 2nd and 3rd Male and Female Finishers in the Half Marathon/10K and 5K races only.
What does my entry fee include?
• A beautiful medal for all finishers
• Individual chip timing (excl walkers)
• Race Number
• Complimentary post race hydration refreshments
Are pets allowed?
Sorry, no pets allowed.
Will there be water stations?
Half Marathon: Approx 4.6 Miles, 9.4 Miles and 11 Miles
10K: Approx 4.6 Miles
Where are the toilets/shower facilities located?
Toilets are available in the main courtyard close to Registration.
What footwear should I bring?
The course is a mixture of tarmac and forest paths. Running shoes are suitable for all the terrain, however if the weather has been particularly wet prior to the race trail shoes for the Half Marathon may be advisable.
Can I run with a buggy?
Due to the nature of this course, for health and safety purposes, it is not suitable for buggies.
Where can I find race photos?
Following the event photos can be found at: www.mysportsphoto.co.uk
Where will I find race results?
Following the event all results will be published on our website.